Woven Yoga Donates Proceeds from Annual Gratitude Yoga Event to United Way of Wyandot County
Michele Minehart of Woven Yoga in Upper Sandusky has made an annual tradition of holding a Gratitude Yoga class on the day after Thanksgiving, Black Friday. Her special class encourages people to remain thankful beyond Thanksgiving Day by giving, instead of buying – and to give locally, to organizations working to make an impact in the community. Gratitude Yoga participants attend the free class in exchange for a donation to a local non-profit organization. Past donations have been made to Open Door Resource Center and Art Connections in Carey, and this year, Woven Yoga chose United Way of Wyandot County as the recipient of donations made at the max-capacity November 29 class.
"Woven Yoga is about bringing everything together – body, mind and breath while on our mats, but also people, neighbors, resources and organizations once we step out the door, "Michelle says. "This practice is just one way we can put our intentions into action for our community. I'm so thankful for the support and the warm welcoming as I opened my doors for the first time downtown this summer and I hope to continue to foster connection with our neighborhood."
We want to thank Michele and Woven Yoga for being part of the change in our community and for Living United!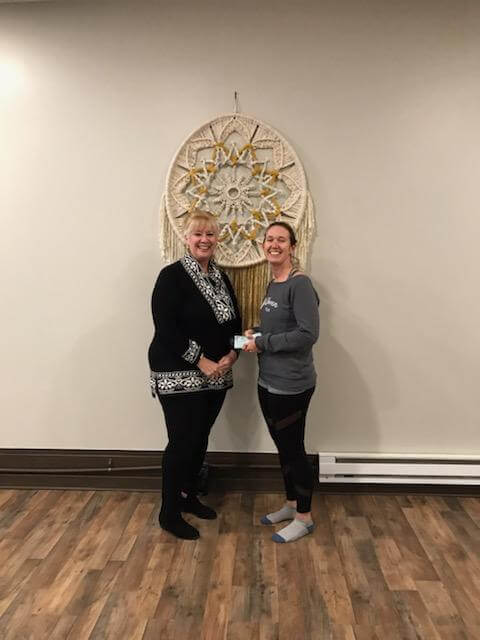 United Way Resource Development Coordinator Pam Morral (l) and Woven Yoga owner Michele Minehart (r)